Woodland Forest Inspired Wedding Reception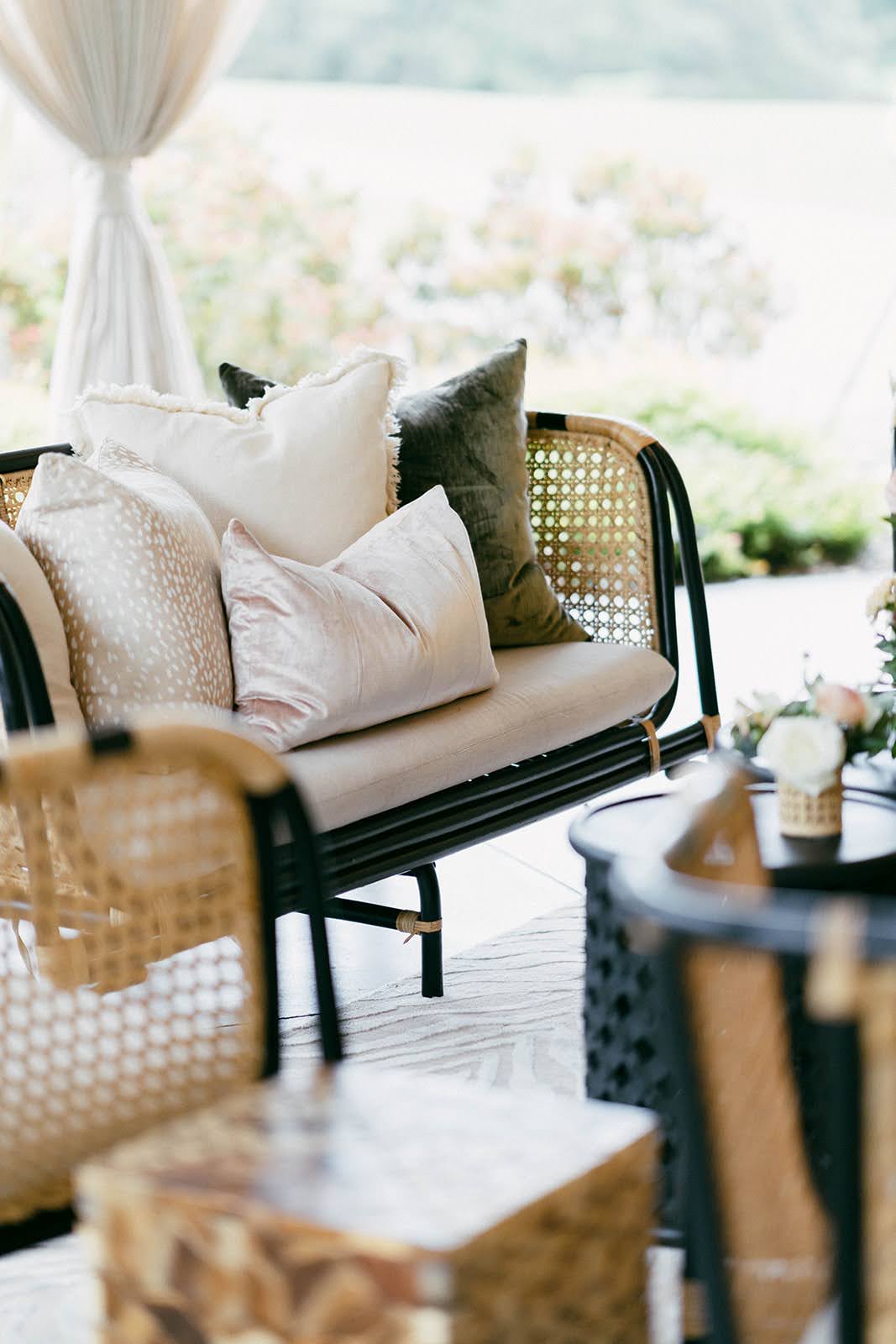 Every engaged couple dreams of a wedding day that reflects their unique love story and personality. For those with a penchant for enchanting forest adventures, a whimsical woodland forest-inspired wedding reception is the perfect choice. Picture a setting filled with velvet soft seating, rattan and black bamboo lounges, and a breathtaking array of florals in soft green, brown, gray, amber, and smoky pink. Add a touch of mystique with black accents on dinner plates and lamps, along with natural wood-toned flatware. To make sure your guests feel like VIPs, we've even got a 24-foot white dowel bar to ensure no one waits in line. But what truly sets the scene are the realistic handmade trees with real leaves wrapped around poles, creating an enchanting forest atmosphere. Let's delve deeper into the magical world of this woodland-inspired styled shoot.
FEATURED ITEMS
Anna Marie Sofa, Cafe Boucle Sofa, Edgar Chair, Champagne Wall, Chapel Arbor, Charlie Table, Carraway Bar, Liam Coffee Table, Boone End Table, Velvet Pillows, Lucille Etagere, Han Shelf, Cane Front Lilith Bar, Sullivan Chair, Harmony Chair, Hannah Coffee Table, Ashley End Table, Wood Vase, Ashton Sofa, Wood and Gold Lamp, Beaufort Table, Chandler Rug, Waco Table, Ashton Chair
The Venue: A Forest Wonderland
To bring your woodland wedding reception to life, choose a venue that boasts lush greenery, towering trees, and a sense of seclusion. An outdoor garden or a rustic barn surrounded by nature's beauty is the ideal canvas for your forest-inspired dreams. The key is to find a space that makes you feel like you've stepped into an enchanted forest.
Seating: Velvet Softness Meets Natural Elements
One of the most striking features of this woodland reception style is the seating arrangement. Velvet soft seating in rich earthy tones like deep green and smoky pink provides an opulent and cozy feel. Combine this with rattan and black bamboo lounges to create a perfect blend of luxury and nature. The juxtaposition of these textures adds depth and intrigue to your forest-inspired setting.
Florals: Nature's Palette
The centerpiece of your woodland reception will undoubtedly be the florals. Embrace nature's palette with soft green, brown, gray, amber, and smoky pink blooms. Think of lush, cascading arrangements that mimic the natural beauty of a forest floor. Using lots of cut greenery on the bars and bar backs.
Table Setting: Elegance in Earthiness
Your table setting should seamlessly blend elegance with earthiness. Opt for dinner plates with black accents to tie in the forest theme. Complement these with natural wood-toned flatware to maintain the rustic charm. To add a soft glow to your reception, make sure to include lots of candlelight. The warm, ambient light will create an enchanting atmosphere that complements the forest-inspired theme.
The Bar: No Waiting in Line
A 24-foot white dowel bar is a fantastic addition to your woodland reception. It not only adds a touch of sophistication but also ensures that no guest waits in line for their favorite drink. This thoughtful touch will make your guests feel truly cared for, allowing them to enjoy the festivities without interruptions.
Realistic Handmade Trees: The Heart of the Forest
What truly sets the stage for your woodland-inspired reception are the realistic handmade trees topped with real branches and covered in moss and vines.  The life size trees will tower over your guests and create the illusion of a forest within your venue. These trees will serve as both a visual delight and a conversation starter, transporting your guests into a whimsical world of enchantment.
A whimsical woodland forest-inspired wedding reception is a magical way to celebrate your love story. From the velvety soft seating to the natural elements, from the earthy florals to the elegant table settings, and from the no-waiting-in-line bar to the handmade trees, every element comes together to create a dreamy, enchanting atmosphere that you and your guests will cherish forever. So, embrace the beauty of nature, and let your love story unfold in this captivating forest wonderland. It's a celebration you'll never forget.
VENDORS
Planning and Design: ABBA Design, Models: Mariel Swan and Paul Swan, Venue: Summerfield Farms, Catering: 1618 on Location, Speciality Rentals: The Prettiest Pieces, Wedding Dress: The Magnolia Bride, Rentals: Party Makers Event Rentals, Curated Event Rentals, Party Reflections, Party Tables Linens and Drapery, Cake: Cake and All Things Yummy, Paper Goods: Vie Creative Co